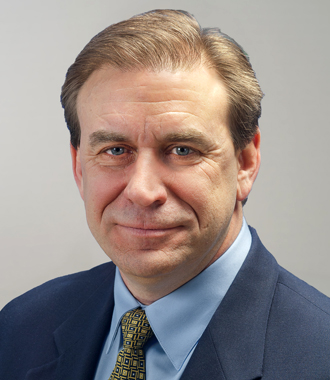 Munuswamy Dayanandan Endowed Chair
Department of Emergency Medicine
Wayne State University

Specialist in Chief
Emergency Medicine
Detroit Medical Center
Brian O'Neil, M.D., F.A.C.E.P., F.A.H.A.
Office Phone
313-745-9269
Office Location
4201 Saint Antoine Street
University Health Center, 6G
Detroit, MI 48201
Assistant: Cari Williamson
cwilliamson@med.wayne.edu
Biography
 Brian J. O'Neil, M.D., F.A.C.E.P., F.A.H.A., is the Munuswamy Dayanandan Endowed Chair of the Wayne State University School of Medicine Department of Emergency Medicine and the Specialist-in-Chief of Emergency Medicine for the Detroit Medical Center. A 1986 graduate of the Wayne State University School of Medicine, Dr. O'Neil is a nationally recognized expert in the fields of cardiac and cerebral ischemia and cardia resuscitation. Dr. O'Neil is an active researcher who has contributed over 100 peer-reviewed papers to the field of resuscitation. He has been involved with guideline and policy development within the AHA and other specialty organizations. Dr. O'Neil is the past-president of the American Heart Association's Emergency Cardiovascular Care Science Subcommittee, previous Chair of the ACLS sub-committee and he also is a current member of the International Liasion Committee on Resuscitation. He was a member of the Writing Committee for the American Heart Association's 2010 Acute Coronary Syndromes Guidelines and the 2015 Advanced Cardiovascular Life Support guidelines. 

Dr. O'Neil received the American College of Emergency Physicians 2013 Outstanding Contribution in Research Award, the Emergency Medicine Foundation Fellowship Award and the Career Investigator Development Award from the National Institutes of Health. He has been recognized for his outstanding teaching, receiving the Academician of the Year, Sinai-Grace Hospital; Teacher of the Year, St. John Hospital; Lawrence R. Schwartz, Faculty Devotion Award, William Beaumont Hospital; and, the Emergency Medicine Residents Association of Michigan Teacher of the Year Award. He is a member of the Research Committee for the Society of Acadmeic Emergency Medicine and the American College of Emergency Physicians. Dr. O'Neil is a decision editor for the Academic Emegency Medicine College of Cardiology and the Annals of Emergency Medicine. Most recently, Dr. O'Neil was awarded Distinguised Alumni Award in 2017. This award is presented to alumni who have made outstanding contributions to humanitarian causes, whose contributions to the health field in the broader sence is outstanding and for service to the WSU School of Medicine. 
 
Other Information